EVENT OUTLOOK
UPCOMING EVENTS
JANUARY 12
Board Meeting
11:30-12:30
EPAB Office
JANUARY 18
Board Meeting
11:30-12:30
EPAB Office
JANUARY 29- FEBRUARY 2
IBS AND KITCHEN & BATH SHOW
Las Vegas, Nevada
www.buildersshow.com
Save the Date - TAB Rally Day
March 29
Austin, Texas
EPAB Installation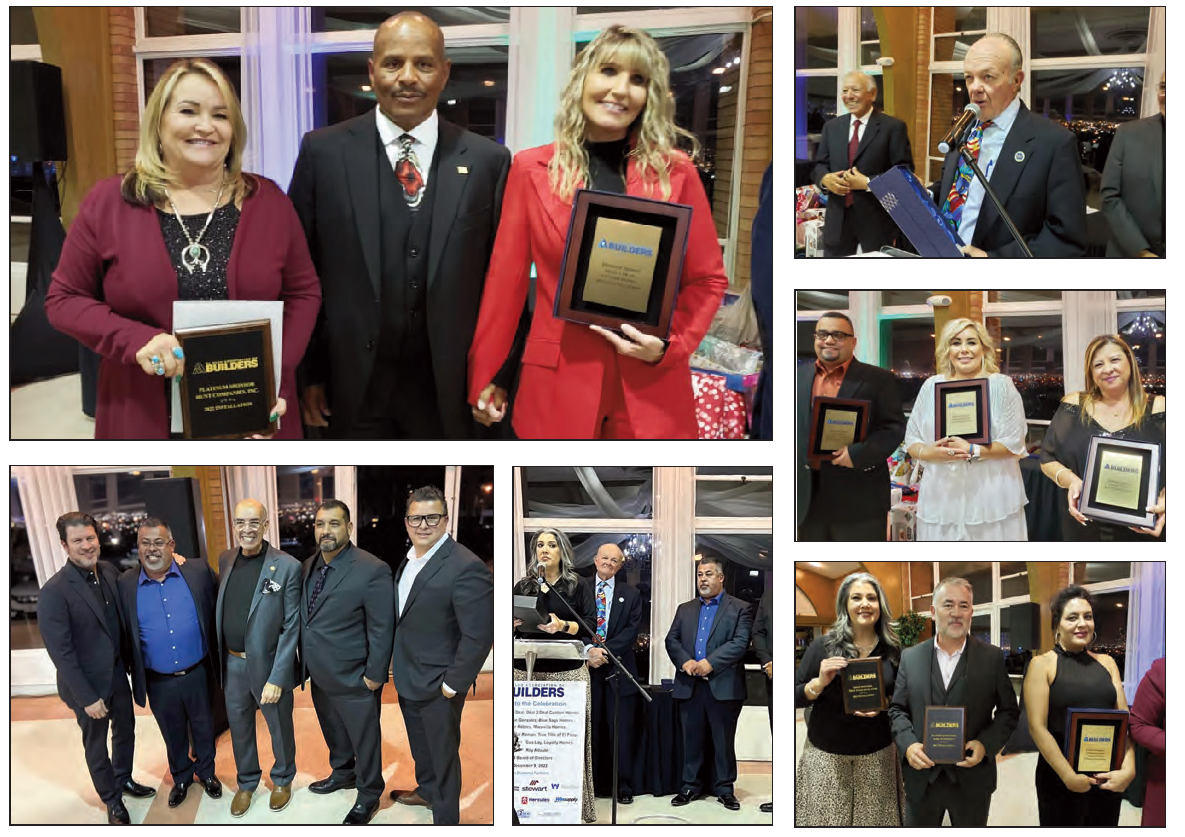 Our installation and awards dinner were held on Friday, December 9. With a little fanfare we had a wonderful event with a lot of friends who we hadn't seen in a while, met some new ones, and shared the evening by saluting those members who were selected for their work for and with the Association.
Let me start by thanking the event sponsors, who's support makes the night possible. They are listed below, but if and when you have a chance thank them for doing so.
MEMBER OF THE YEAR: Gus Loy, for his dedicated commitment for five years on the Executive Team, and his efforts to keep the EPAB moving forward.
ASSOCIATE MEMBER OF THE YEAR: Kathy Carrillo, Western Heritage Bank, for her work with the finance committee and her position as Treasurer.
CHANEY-SHALLENBERGER LIFETIME AWARD: Angelique Roman, True Title of El Paso, for her continuous support and efforts over her career to better the EPAB.
HONORARY LIFE MEMBER: John Chaney, Hercules Industries, for his years of membership and leadership in the EPAB
Thanks to Chuck Haskins, Haskins Electric, who gave the Blessing and to John Chaney, who led us in the Pledge of Allegiance. Also, thanks to Patricia Alvidrez, and Angelique Roman for helping Margaret do the check in.
All these members have shown a dedication considered above and beyond the membership, leading in so many ways, sharing and always giving, and making the Association stronger. All are dedicated to continuing to make the Association better for those in now, and those who are coming in. These volunteers work hard for every member. Congratulations.
Delton Deal, of Deal 2 Deal Custom Homes was installed as President for 2023 and his acceptance speech will go down as one of or the best. Not only did Delton have his sights set for 2023 but he encouraged the audience to be better than best, and then better than better. He gave thanks for the opportunity and acknowledge the role his mother has played in his life. A moving tribute followed as he sang to wife Lucinda, evoking tears from those of us lucky to be there. His challenge is to build the association by growth and support, including the support for the TAB Homepac, local work, and charity.
The installation of the 2023 Board Of Directors was done by Past President Edgar Garcia. The new board takes over in January.
The new Executive Team is Delton Deal, President; Jaime Gonzalez, Vice President; Victor Robles, Secretary; Gus Loy, Immediate Past President, Angelique Roman, Associate Vice President; and Ray Adauto, Executive Vice President.
Plans are already in the works for Installation 2023.
Sponsors:
DIAMOND
Deal 2 Deal Custom Homes
Interceramic
Foxworth Galbraith Lumber
Stewart Title
Hercules Industries
WestStar
StrucSure Home Warranty
MTI Ready Mix
Sierra Title
WinSupply El Paso
Franklin Building Materials
Platinum
HUNT Companies, Inc.
Jobe Materials
GOLD
True Title of El Paso

Toy Drive
The annual Christmas Toy Drive has once again delivered to help families meet the anticipated seasonal gifts. The call was put out in late October and was completed in time to get the toys to kids who otherwise may not have much to unwrap.
The Drive was started when the Junior Women's Club of El Paso asked if the EPAB could gather some toys for their annual Christmas time giving to families selected with the help of the Texas A&M Research Center Colonia's initiative. The initiative is out in the community helping disadvantaged families with help to survive, from utilities to healthcare, food (our turkey drive) and basic needs for their children. Over the past years our members have helped literally thousands of kids from our area. Once again the support this year was far greater than just helping the Colonia's kids, we also helped deliver toys to Candlelighters, the Boys and Girls Club program at Clendenin School, and other groups.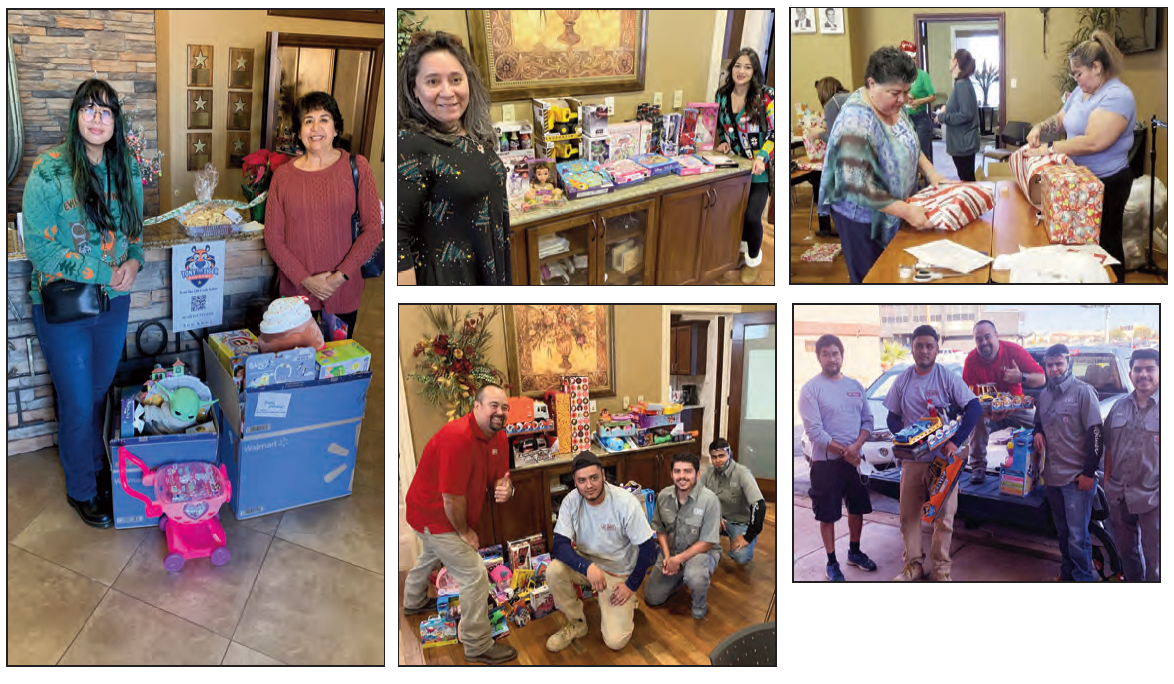 New Members
UNION HOME MORTGAGE
CONTACT: VERONICA RAIGOSA
2300 George Dieter
EL PASO, TX 79936
915-383-8481
WWW.UNIONHOMEMORTGAGE.COM
SUNBELT RENTALS
CONTACT: ANGEL BERRIAS
12751 PELLICANO
EL PASO, TX 79928
WWW.SUNBELTRENTALS.COM
SUN CITY BUILDERS & REMODELING
CONTACT: JOHN BRYAN
3626 BUCKNER ST.
EL PASO, TEXAS 79925
915-593-6827
WWW.SUNCITYBUILDERS.COM