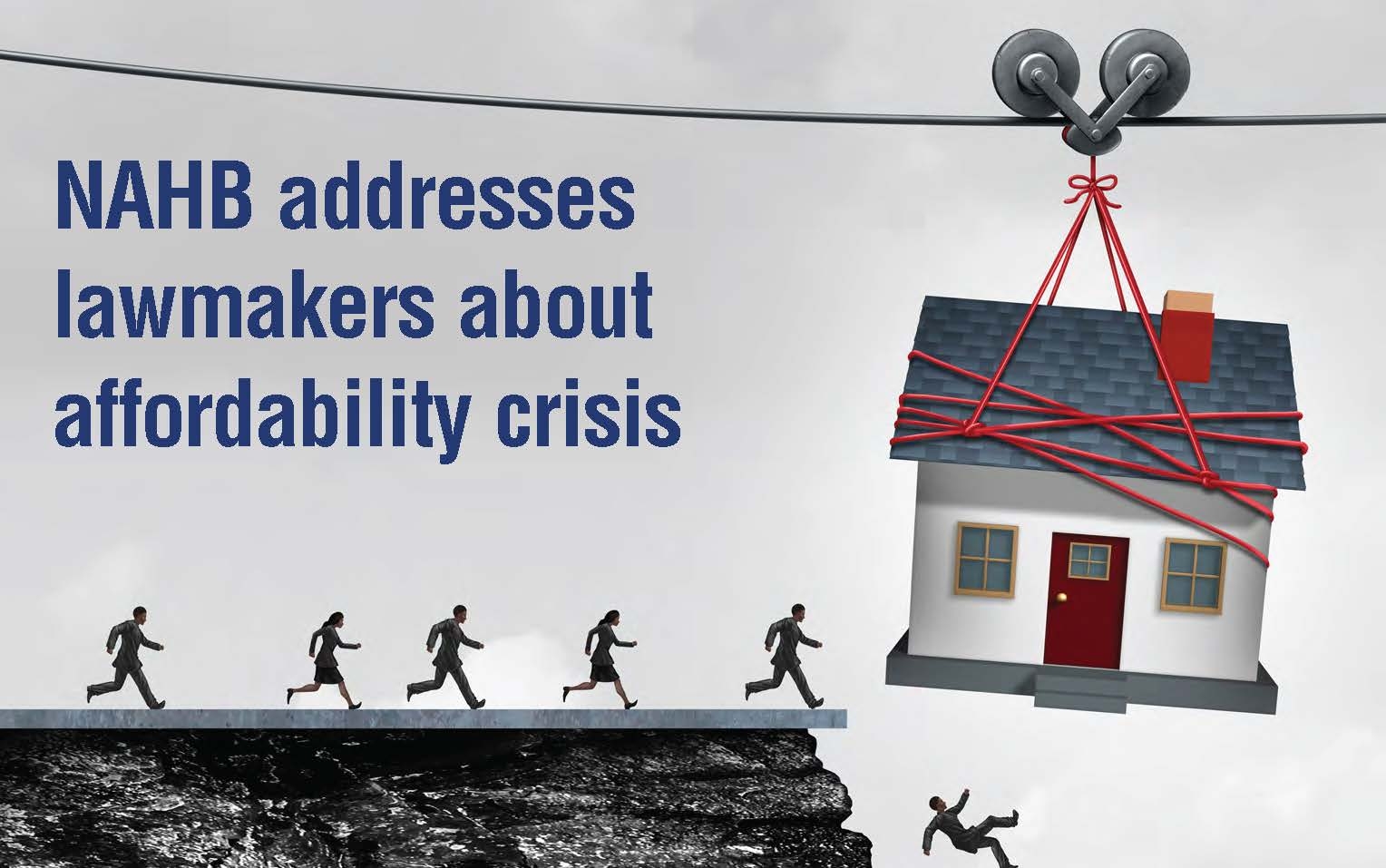 NAHB
NAHB First Vice Chairman Alicia Huey participated in the New Democrat Coalition's Housing Roundtable and outlined headwinds facing the housing industry as well as urging lawmakers to enact specific policy solutions to ease the nation's housing affordability woes.
NAHB First Vice Chairman Alicia Huey Tells Lawmakers How to Address Affordability Crisis
Huey cited a number of factors that have considerably slowed home building since the start of the pandemic:
• Building material prices have jumped more than 35% since January 2020, and 80% of that increase has occurred since January 2021. For example, steel mill prices are twice their January 2021 level, gypsum is up 22% and exterior paint is up 50%.
• Skilled trade labor shortages are making housing more expensive and increase the time it takes to build a home.
• Rents are on the rise due to a lack of housing supply, and higher interest rates have pushed the average mortgage rate to 5.9%, the highest level since 2008.
"In fact, housing affordability has fallen to a decade low," Huey told lawmakers. "The July median home sales price is $428,700, an increase of $58,900 from just a year ago. And seven out of 10 households cannot afford a new, median-priced home."
To combat the growing housing affordability crisis, Huey urged the New Democrat Coalition to call on the Biden administration to suspend tariffs on Canadian lumber and immediately enter into negotiations with Canada on a new softwood lumber agreement.
Huey also called on Congress to play an important role on the labor supply issue by ensuring that vocational training opportunities stand on the same footing as a four-year college path.
NAHB has also been working closely with lawmakers to highlight how building material production bottlenecks and rising lumber prices are harming home builders and home buyers. Huey specifically noted the efforts of Rep. Norma Torres (D-Calif.), who has consistently cited the urgent need to resolve America's housing affordability challenges.
"Rep. Torres, I want to thank you for the many times you have spoken out on lumber costs and their impact on housing affordability, especially the numerous times you have appeared on the House floor to speak on our behalf," said Huey.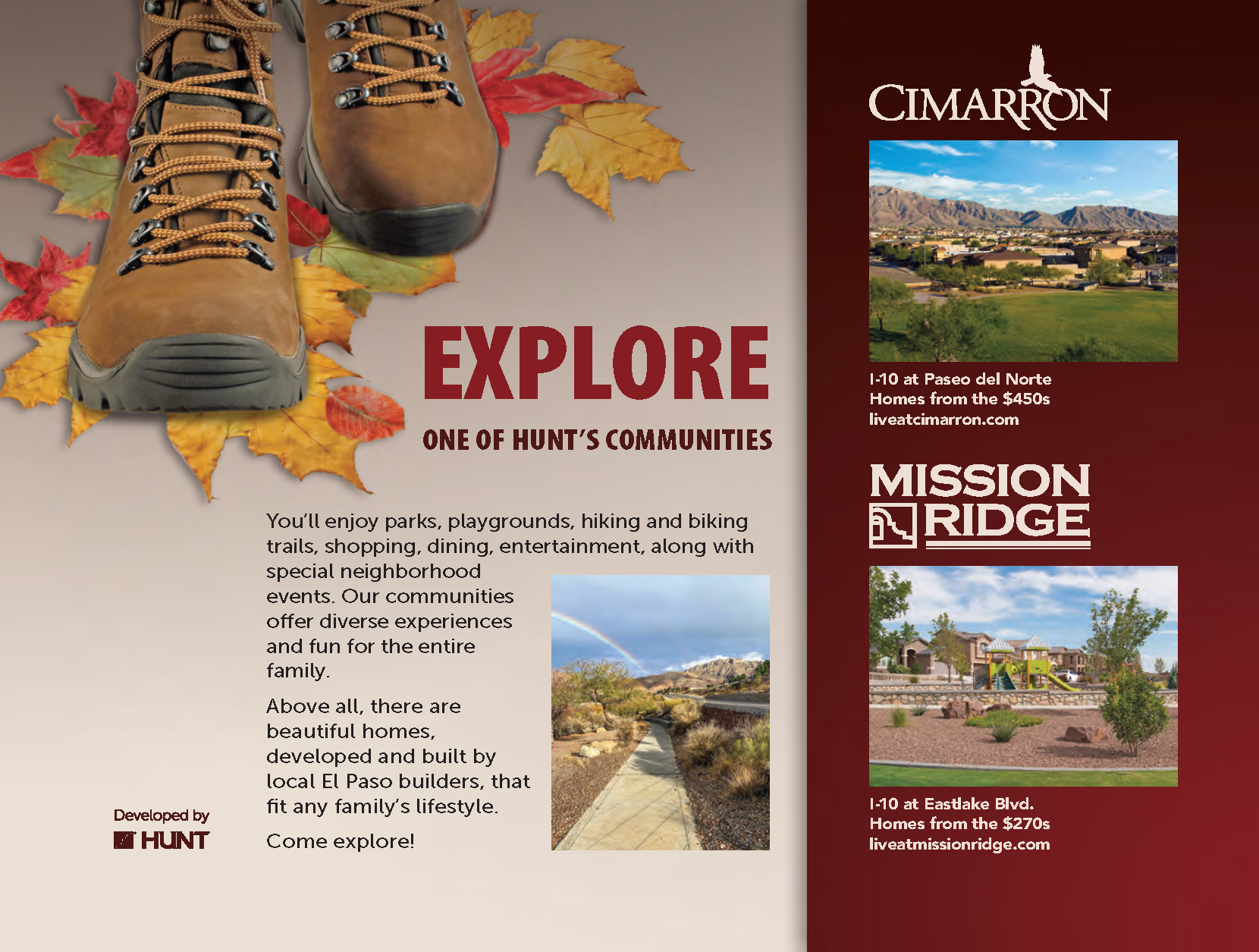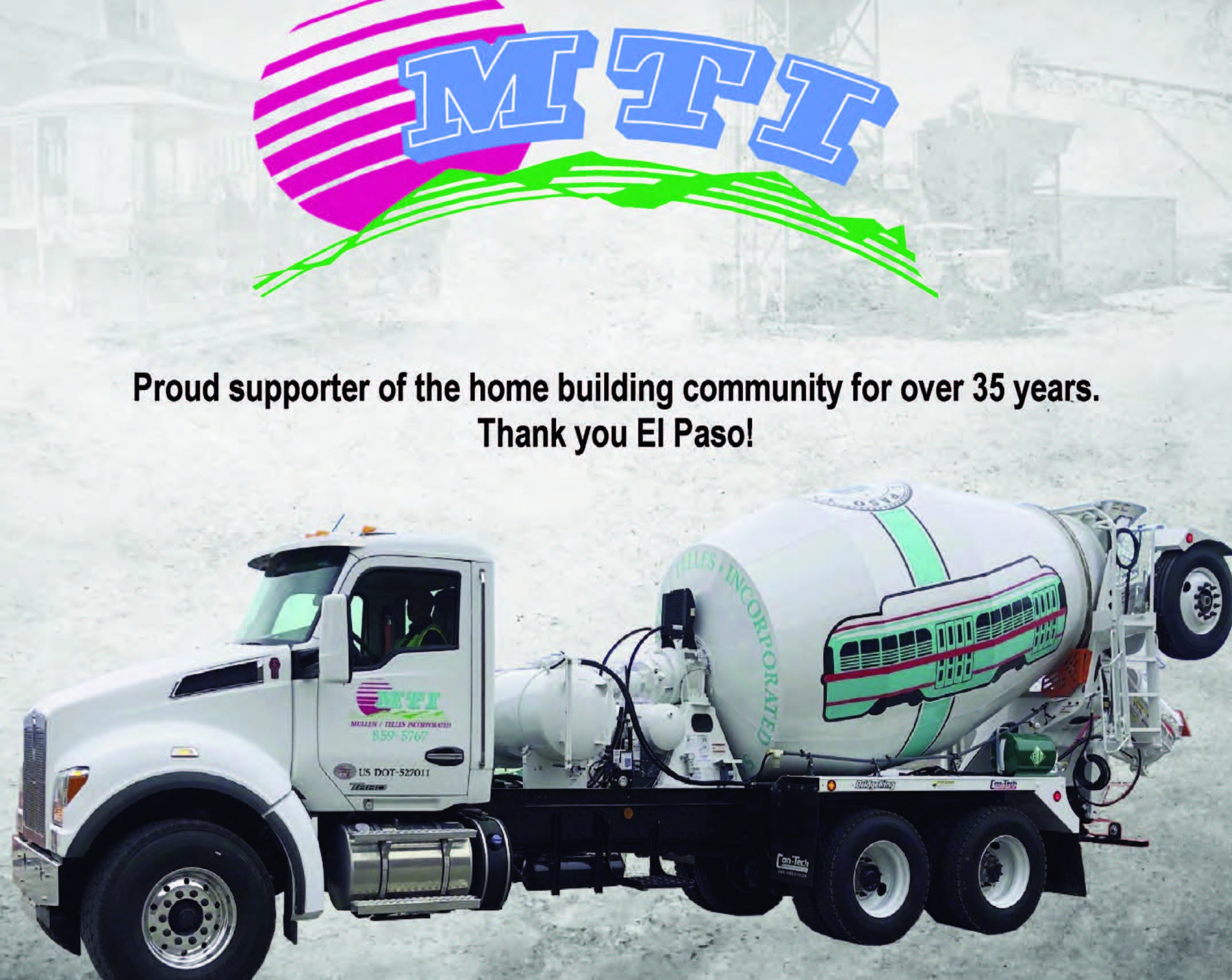 HOMEPAC: An investment in future of homebuilding
EPAB President's Message
Gus Loy, President
El Paso Association of Builders
My term as President is ending in just a few months, as we install Delton Deal into the presidency. Frankly the year has gone by fast.
I want to thank all our members who participated in the taxpayer petition signing as we look for ways to slow down property taxes while holding the government in check. Ray has done a good job being the guy up front, but one of things I have learned in leadership is that getting involved is a personal AND professional requirement so long as I'm building.
The value of membership continues to impress me as I find out very quickly that it is impossible to be everywhere all the time, and so our volunteers who can represent us are doing that for me and you. In the capitol our lobby team at TAB is ready for mostly anything coming out of the legislature, but the one thing they can't do is vote for you. I found out by my involvement that who represents you is either a friend or foe, and in some cases just not very good at the job they are elected for. Same goes for the local politicians. While our dues take care of some of these things, I want to push you to contribute to the TAB Homepac. I think that your contribution of $25 (or more) is money well invested. Our goal is to have every member contribute because the work TAB does continue to save every member money.
So will you join me in making that contribution today? Personal checks can be made out to HOMEPAC. You'll be helping yourself.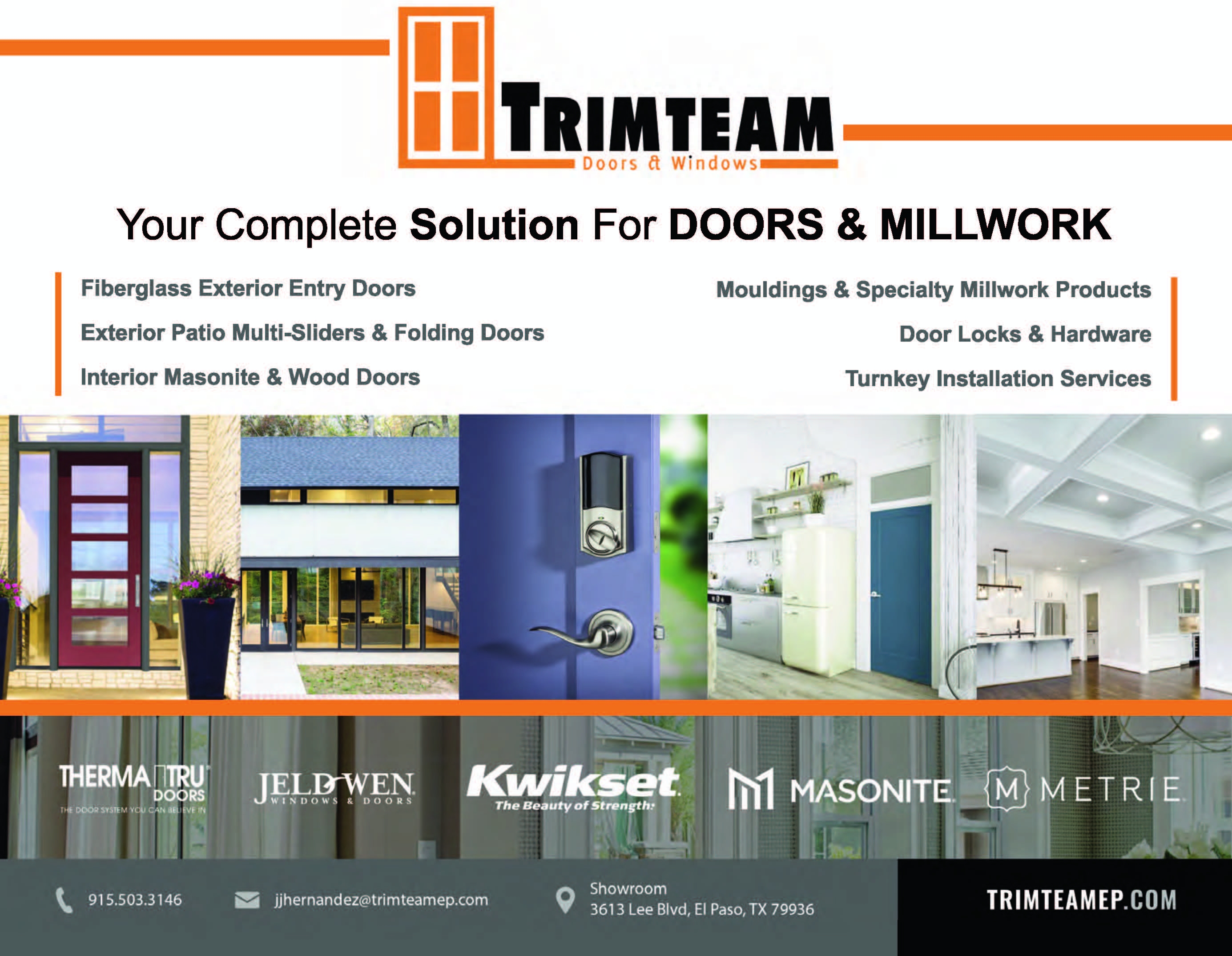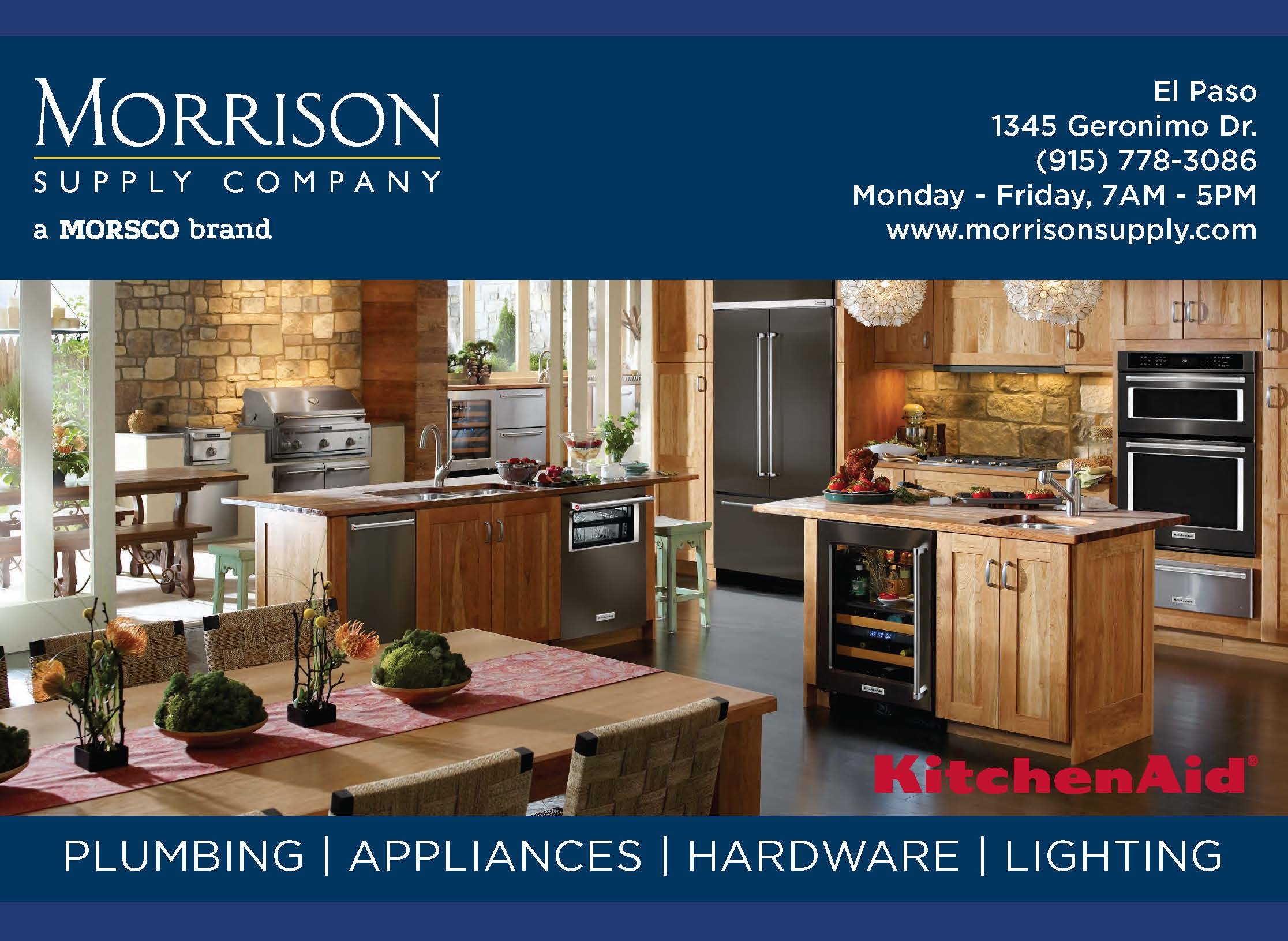 We face the future as fall approaches
Executive Message
Ray Adauto
Executive Vice President
EPAB makes changes to enhance your membership,
continues to represent you in governmental affairs
It's that time of year when the association begins to look closely at the upcoming year. It's a time when we get busy for a lot of reasons, this year with the October golf tournament, meetings, and leadership selections the EPAB is busy.
Our newest effort, the Builders Outlook app, is starting to gain popularity. That is a good thing because it does bring the association onto your hand. Literally. The app, available on iOS or Android is going to be one of the most significant adds to the membership value that we've had in over a decade. Information on members, discounts and other information is now just a click away. Get it and use it.
Our efforts to get a public voice on how and if we should be taxed has made some headway, but because we publish this before a final verdict is made by Commissioners Court the work of keeping public officials informed about how we feel is important. It's time for individuals to step up to the podium and stand up for your rights. I had a visit from a political friend, who despite our personal political views, thought it important to visit me with some questions about the local political scene. I think dialogue is important, but I did tell her that for the first time in my life I don't feel terribly optimistic on our local agendas. Because of very poor voting records El Paso will continue to have special interest groups push agendas that many don't like or understand but will become the law of the land due to laziness and a don't give a damn attitude. This is the downfall as I see it, especially if you are a taxpaying citizen. Keep the politicians, and the bureaucrats in line by voicing your opinions. Get informed, get involved. By the way our efforts with the Hospital District certificates of obligation garnered over 35,000 signatures. A win? Don't know, but a statement for sure.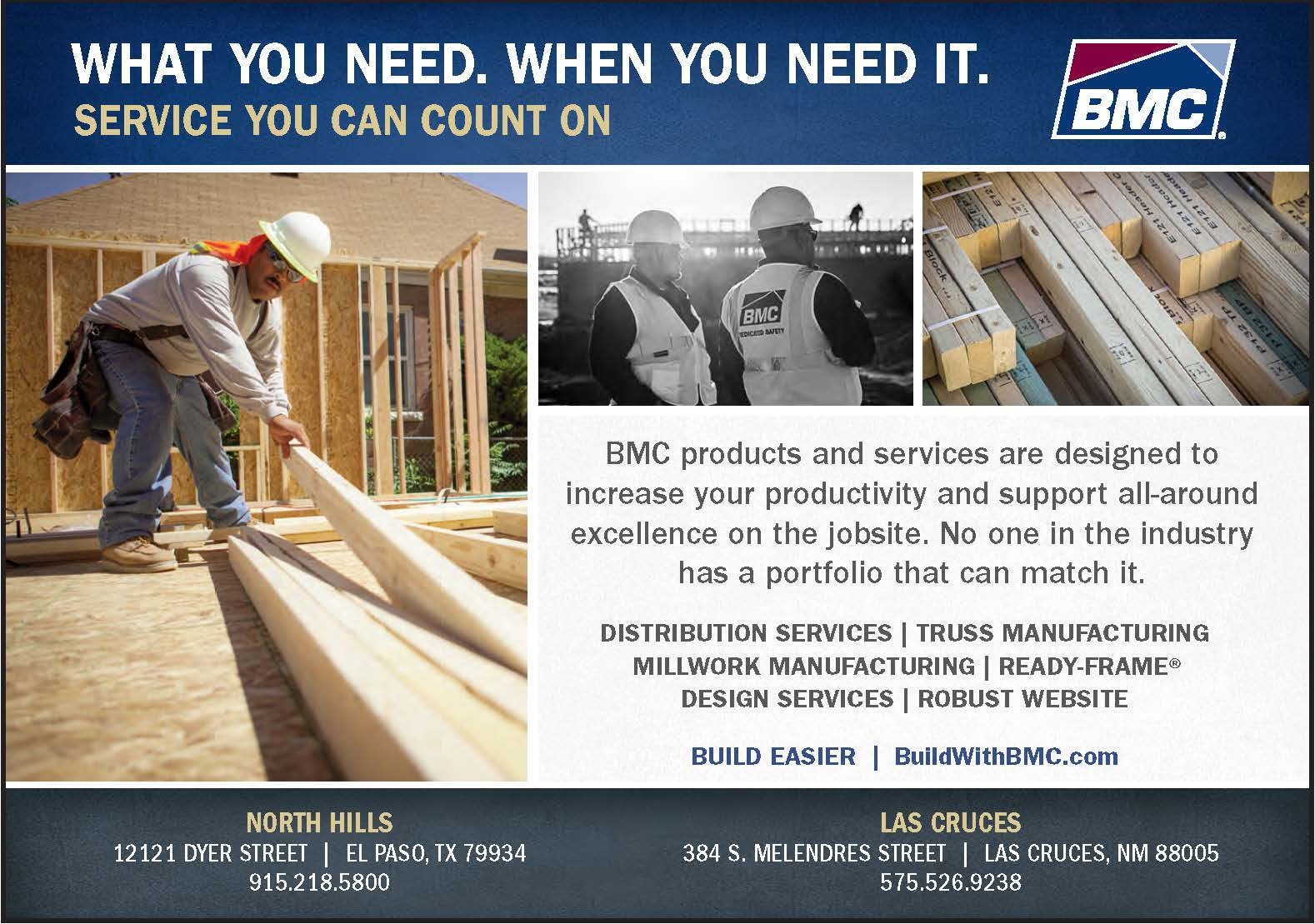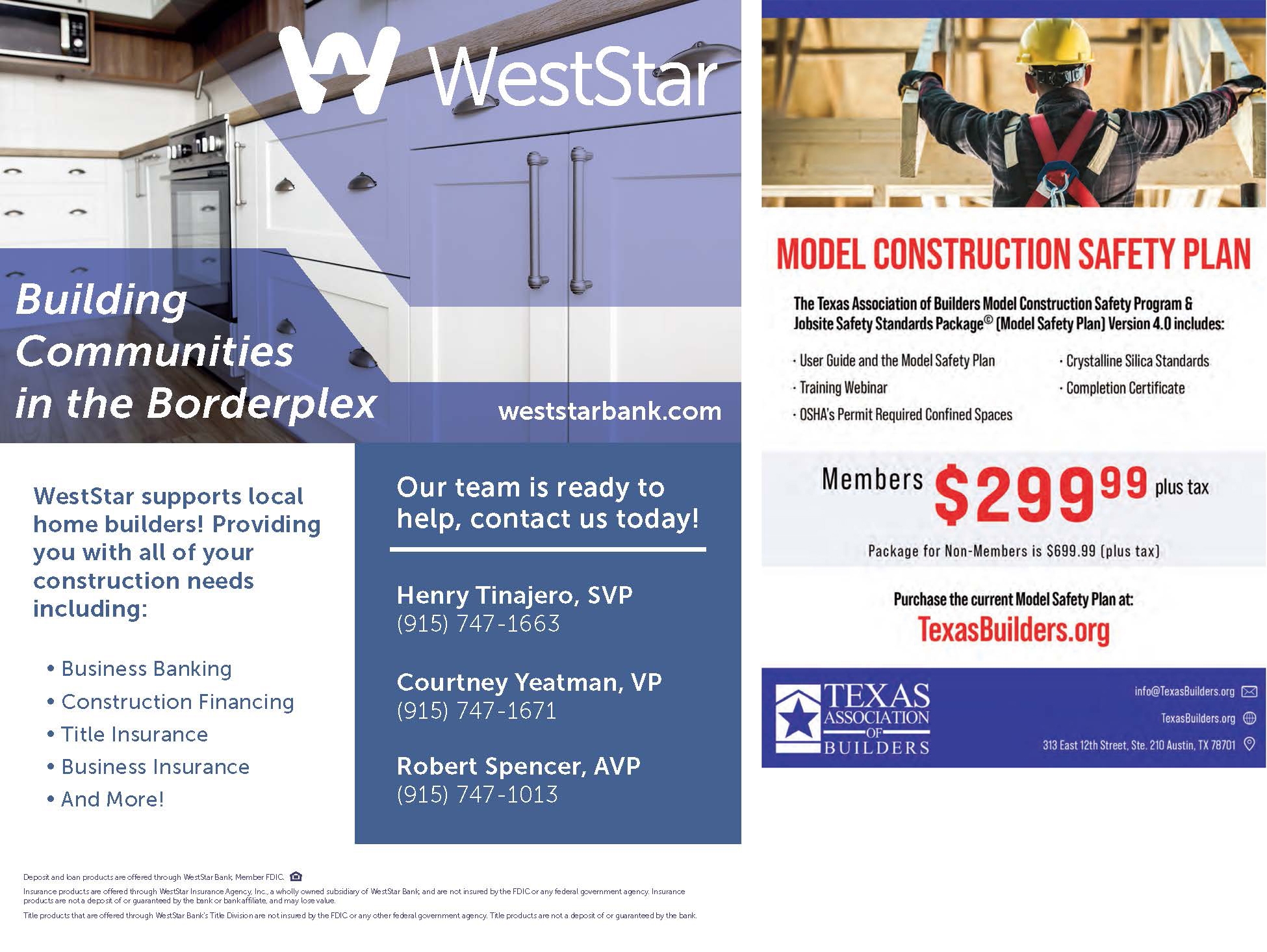 Diversification may help labor challenge
A severe skilled labor shortage is impacting our industry's efforts to address housing affordability and to keep up with growing housing demand. Adding more women and other underrepresented workers into the field can be a big step that helps to solve the issue.
As part of Professional Women in Building (PWB) Week 2022, experts will join a free online shop talk, How to Prioritize Diversity in the Residential Construction Industry (Microsoft Teams link), today at 2 p.m. ET.
Amy James Neel, workforce and contracting equity manager at Portland Community College and a carpenter by trade, and Dr. Charner Rodgers, a licensed general contractor, development director, business diversity at McDonald's and vice chair of the NAHB Student Chapters Advisory Board, will share real world strategies to implement in your workplace that prioritize diversity.
"The construction industry is experiencing a crisis-level shortage of workers. Discounting or devaluing women and BIPOC (Black, Indigenous, and people of color) workers is an expensive and risky business decision," said Neel. "Research demonstrates that firms with more diverse talent benefit from greater innovation, better problem-solving and stronger creativity and insight than homogenous crews. The answer to a host of challenges our industry faces lies in developing the cultural literacy to successfully recruit, train and retain non-traditional workers."
The conversation will be moderated by Juli Bacon, president of JB Consulting and 2017 NAHB PWB Council Chair.
In addition to the shop talk, the PWB Week Toolkit suggests highlighting women leaders that prioritize diversity at your local council using the social media hashtags #PWBWeek and #PWBProud.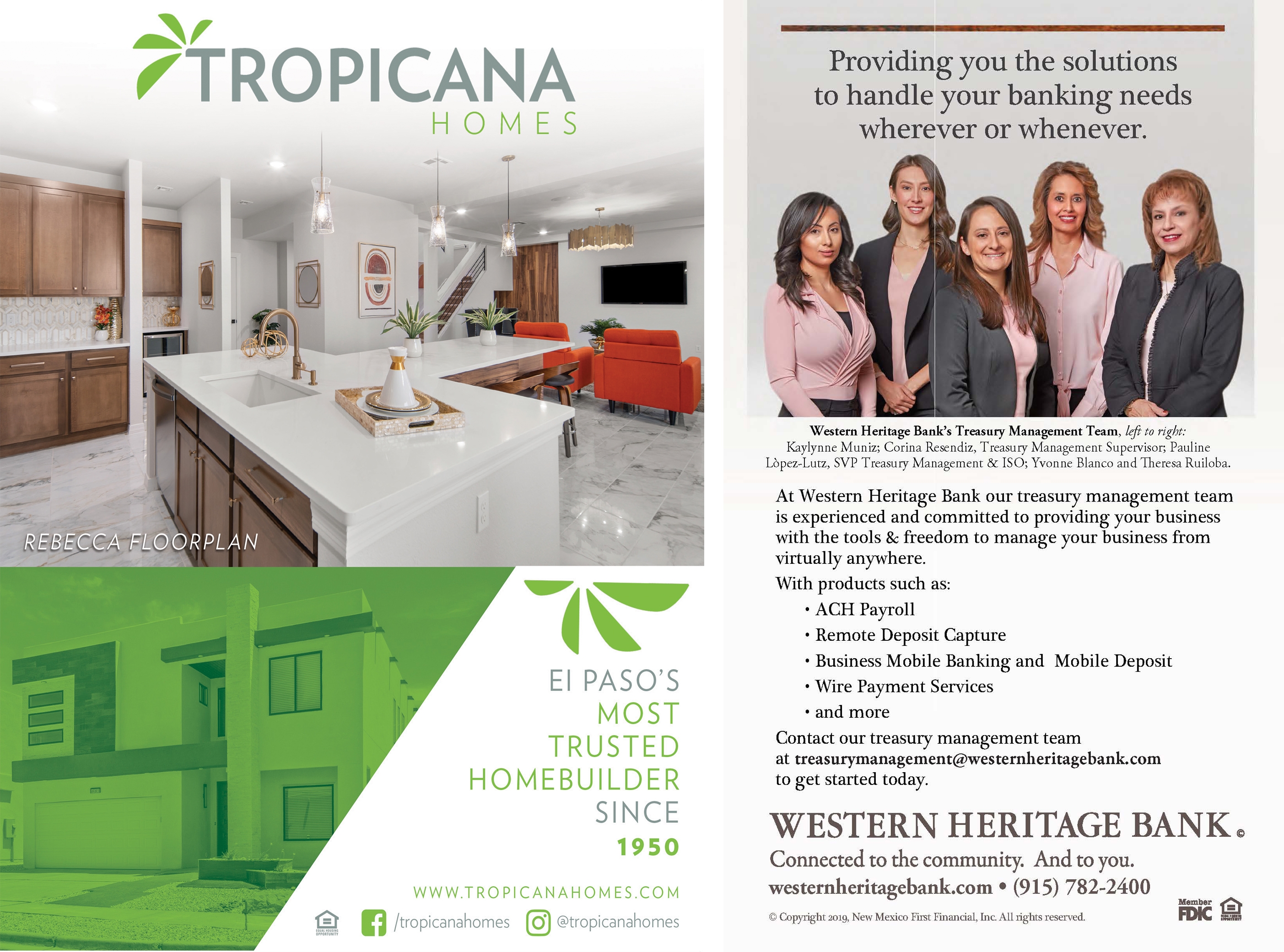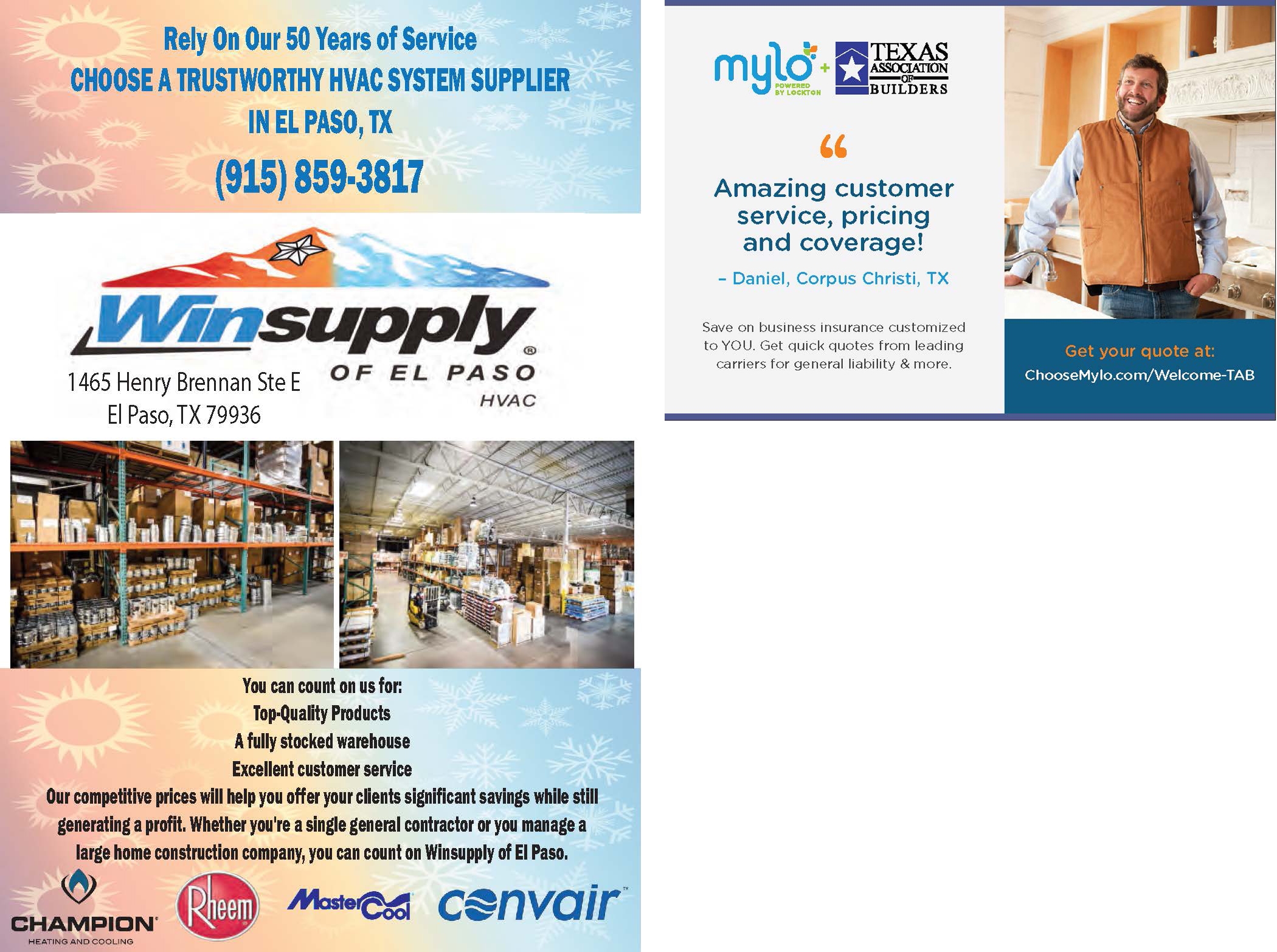 Single-Family Lot Values Reach Record Highs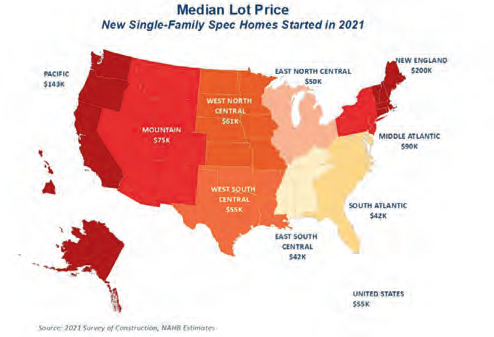 Lot values for single-family detached housing starts in 2021 increased across the nation, with the national value and six out of nine Census division values setting new records. The U.S. median lot price now stands at $55,000, according to NAHB's analysis of the Census Bureau's Survey of Construction (SOC) data.
In the New England and Pacific divisions, lot values surged 67% and 39%, respectively, and reached new historic highs, even after adjustments for inflation. As a result, half of single-family detached (SFD) homes started in New England were built on lots valued at or more than $200,000. Though these new lot values seem sky high, these are consistent with record lot shortages, recent significant building material price hikes and unprecedented supply challenges that have been constraining the pandemic-fueled housing boom in 2021.
In the Pacific division, which has the smallest lots, median lot value reached
$143,000 in 2021, the second most expensive value in the nation and a new record for the division, even after adjusting for inflation. As a result, Pacific division lots stand out for being most expensive in the nation in terms of per acre costs.
Similarly, the Middle Atlantic division recorded a strong rise in lot values and set a new record with half of lots priced at or above $90,000. The Mountain division followed with a median lot price of $75,000, a new divisional record.
Two neighboring divisions in the South — South Atlantic and East South Central — also posted divisional records. Nevertheless, these divisions remain home to some of the least expensive lots valued well below than the national median. Half of SFD spec homes started in these divisions in 2021 have lot values of $42,000 or less.
The West South Central, which includes Texas, and East North Central divisions were the only two divisions that posted moderate declines in the median lot values. Less than a decade ago, half of SFD lots here were going for $30,000 or less, almost half of the current median of $55,000.
When adjusted for inflation, lot values are now close to the record levels of the housing boom of 2005-2006, when half of lots were valued over $43,000, which is equivalent to about $57,800 when converted into inflation-adjusted 2021 dollars. At the same time, home building shifted toward smaller lots, resulting in record-high prices per acre.
Natalia Siniavskaia, Ph.D., NAHB Assistant Vice President for Housing Policy Research, provides more analysis in this Eye on Housing blog post.

ECONOMIC OUTLOOK
Elliot Eisenberg
Economic & Policy Blog
Elliot Eisenberg, Ph.D. is a nationally acclaimed economist and public speaker specializing in making economics fun, relevant and educational.
Increasing Inflation
While August CPI inflation was 8.3% Y-o-Y, down from 8.5% in July and 9.1% in June, it was disappointing; 8.1% is what was expected. More concerning, core inflation, which removes food and energy prices to get a fix on domestic inflationary pressures increased from 5.9% in June and July to 6.3%, and M-o-M jumped from 0.3% in July to 0.6%, suggesting inflationary pressures strengthened! The Fed will keep hiking aggressively.
Rising Rents
During 8/22, asking rents rose 0.4%, and while historically very high, they are way down from the 1.9% rise in 8/21. Pre-Covid, rent hikes in August were about 0.2%. Similarly, Y-o-Y asking rents are also declining. They increased 10.5% through August, well down from the February Y-o-Y peak of 15.7%. Looking at the data on a city-by-city basis, only 17 saw Y-o-Y rent increases in August compared to July.
Sizable Strikes
In a historically strong labor market, with two job openings/unemployed person, and a labor friendly administration in the White House, it's unsurprising that in the first half of 2022 employees at 1,400 workplaces filed unionization petitions with the NLRB, up 69% Y-o-Y, and the highest level since 2015. Moreover, through 8/15/22, 15 strikes involving at least 1,000 workers have occurred compared to 16 in all of 2021.
Waning Worth
On 12/31/19, household and nonprofit organization net worth totaled $116.4 trillion, then quickly sank to $110.3 trillion by 3/31/21 due to the Covid-19 induced stock market decline. Over the next seven quarters, with the government stimulus and a rebounding economy, net worth zoomed to a stratospheric $150.0 trillion in 21Q4. It's since fallen by $150 billion in 22Q1 and $6.1 trillion in 22Q2 and net worth is now $143.8 trillion.
European Energy
With European energy prices stratospheric, the pressure on governments to intervene is profound. However, all solutions aren't equal. Capping prices is the worst solution; it encourages consumption by making energy artificially cheap. A subsidy on the amount of energy consumed by the median household is OK, it discourages demand beyond the subsidized quantity. Ideally, give sufficient cash to poor households. Price signals are maintained and fear of freezing is eliminated.
Excellent Employment
August's employment report is best described as Goldilocks. Most importantly, 786,000 persons entered the labor force, pushing the labor force participation rate from 62.1% to 62.4%. While some found work, others didn't. As a result, the unemployment rate rose from 3.5% to 3.7%. Better yet for the Fed, M-o-M average hourly earnings declined from 0.5% to 0.3%. This keeps a 75bps hike on the table, but marginally reduces its likelihood.
Domicile Decline
As recently as four months ago, the March Case-Shiller National Home Price Index (which is an average for the three months ending in March) showed M-o-M price appreciation of 2.1%. In April, the appreciation rate declined to 1.7%, in May it declined to 1.25%, and the latest reading, for June fell to 0.33%, the smallest rise since 6/20. The FHFA index for June was up a scant 0.1%.
--------------------
Shift to Smaller Market Continues

Single-family Building declines in Larger Markets
New findings from the National Association of Home Builders (NAHB) Home Building Geography Index (HBGI) show a shift in home building activity over the past 30 months, with notable slowing in large, metro urban areas as a result of initial Covid migration effects followed by declines in housing affordability in high-cost and highly regulated markets as interest rates increased.
"The geography of home building has shifted over the last two and half years, with more single-family and multifamily construction occurring in lower density markets," said NAHB Chief Economist Robert Dietz. "This shift was first caused by the initial impact of Covid on housing demand, which favored lower density neighborhoods. The shift continued in recent months due to housing affordability conditions that are causing both prospective renters and buyers to expand their geographic search for housing, aided by hybrid work patterns that allow for a combination of remote and office work."
"Looking at the last 12 months, single-family production has slowed in all regional submarkets, both large and small, due to ongoing building material production bottlenecks, construction labor shortages, and the Federal Reserve's tightening monetary policy," said NAHB Chairman Jerry Konter, a home builder and developer from Savannah, Ga.
The HBGI is a quarterly measurement of building conditions across the country and uses county-level information about single- and multifamily permits to gauge housing construction growth in various urban and rural geographies.
The index shows that the market share for single-family home building in large metro core and inner suburbs has fallen from 44.5% to 41.6% from the fourth quarter of 2019 (pre-Covid) to the second quarter of 2022.
In contrast, single-family home building in outer suburbs in large and medium sized metros has expanded from 17.4% to 19% during the same period.
This decentralized trend holds true in the least densely populated regional markets. From the fourth quarter of 2019 to the second quarter of 2022, single-family home building market share in small metro core counties increased to 29% from 28.8%. In rural areas, which represent non-metro/micro counties, the home building share rose to 10.4% from 9.4%.
Meanwhile, the multifamily market showed a similar pattern over the same time frame. The market share of multifamily construction in large metro core areas fell from 41.7% in the fourth quarter of 2019 to 39.3% in the second quarter of 2022.